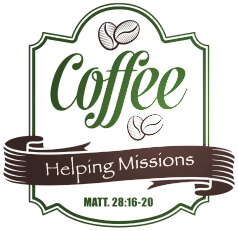 Do you like Coffee? Does your church serve coffee? We have a way you can buy your coffee and support missions at the same time. Through a joint venture with BMW Coffee for Missions project, you can buy coffee and support two missionary projects, one with WOL and one with BMW. First click on this link,
http://www.coffeehelpingmissions.com
and follow the prompts. When you buy the coffee, ½ of the profit goes to a BMW missionary of your choice, we suggest the Janse van Rensburg family. They are missionaries in South Africa, and Brad discipled Deon. Or, if you know a BMW Missionary, pick them! And then ½ goes to our camp scholarship fund for Word of Life South Africa camps. Our summer camp is in December. The web site gives you a total for the donation from the purchase at checkout. In order for Word of Life donation to kick in, as you check out and after you select a BMW missionary, you have to put in our fund raiser code in the space provided-
WordofLife_158
-for the camp scholarship. This fundraiser code is unique to the Hawkins' Team! Then check out and pay…it's as simple as that. If you do not choose a missionary ½ of the profit will go to Biblical Ministries Worldwide's Indonesia project.